A man who tried to shoot seven puppies was shot himself when one of the dogs put its paw on the revolver's trigger.


Jerry Allen Bradford, 37, was charged with felony animal cruelty, the Escambia County Sheriff's Office said Wednesday. He was being treated at a hospital for a gunshot wound to his wrist.
Bradford said he decided to shoot the 3-month-old shepherd-mix dogs in the head because he couldn't find them a home, according to the sheriff's office.


On Monday, Bradford was holding two puppies -- one in his arms and another in his left hand -- when the dog in his hand wiggled and put its paw on the trigger of the .38-caliber revolver. The gun then discharged, the sheriff's report said.


Deputies found three of the puppies in a shallow grave outside Bradford's home, said sheriff's Sgt. Ted Roy.


The other four appeared to be in good health and were taken by Escambia County Animal Control, which planned to make them available for adoption
346 Spay/Neuters Done at the Oregon Neutermobile in Coos County June 1-25, 2004
Fathers Day -- NOT breaks records
On Saturday, June 19, declared to be "Father's Day -- NOT!" by the Oregon Neutermobile, 74 animals were spayed or neutered: 66 tom cats, 6 female cats, and 2 male dogs, breaking the Neutermobile's previous Tom Cat Special day of 62 tomcats.
(Picture at top is Volunteer Tammy Scott with a tiny tomcat from the Shelter, neutered on Father's Day -- NOT!)
"Well, to break the record, we had to do a lot of kittens for free for the Coos County Animal Shelter, Coos Grange Supply, and the folks adopting at Pony Village Mall, and it
is
a strain on our budget, but we're mighty happy to see them all done," said volunteer Maggie Garrison. "But where are the mothers to all of these kittens? We need to get them spayed! We almost emptied the Shelter's cat room on Thursday, bringing them in to be fixed, but if was filled again on Friday with all the kittens brought in."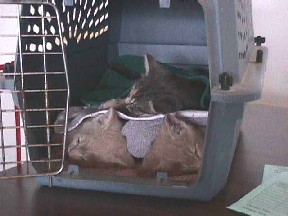 One example of the Neutermobile's accomplishments was the neutering of the last of the feral cats near the Feger's place. "We'd been feeding them for 10 years, since a neighbor abandoned them, but until the Neutermobile came last year, we didn't even know that they could be trapped and neutered," said Debbie Feger. "We borrowed 7 traps and got 18 done during the Neutermobile's stay last July. It was such a relief this spring when there were so few kittens born." On June 19, the Fegers brought in another 4, and finally trapped the last cat, a male, just in time for Father's Day--NOT!.
The Neutermobile's vet is Dr. Alissa Forster, presently working as a field service veterinarian in North Dakota, as well as at spay/neuter clinics hosted by a local ND group, and doing rescue work for both domestic animals and wildlife.

She did Masters Work at the Oregon Institute of Marine Biology here in Coos County and received her VMD from the University of Pennsylvania School of Veterinary Medicine in 1994.
Kittens and puppies at least 8 weeks old and weighing more than 2 pounds were done, as well as females in heat or pregnant at no extra charge. "People are surprised that we can do them so young, and I even think our vet tech puts her thumb on the scales," says Dr. Forster. "But the male kittens can be done when they're pretty small. If I can find them, I can take them."
Many thanks to Pony Village Mall for donating us space, to the Coos County Parks Dept and County Commissioner John Griffith for giving us a week there in Coquille, and to all our volunteers and donors, and all the responsible pet owners who made this year's clinic possible.